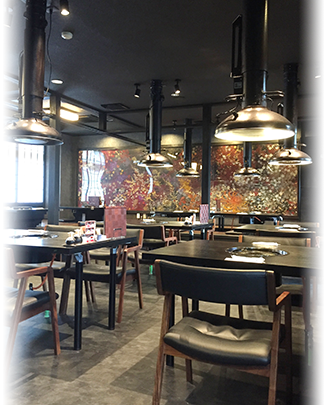 We source authentic Omi beef directly from our partner farms, and offer it to you at a reasonable price.
We provide for Yakiniku tables for one, and for parties of up to 23 people. All sorts of barbecue, including a la carte dishes, set meals, a lunch menu, and more; there are plenty of options for you to choose from freely.


In addition to Japanese barbecue set meals, we also offer sukiyaki and hot pot menus, and more. Our [Party & Lodging Combo] a popular choice for groups, allows guests to eat and drink to their hearts'content, and stay at our hotel on the same property.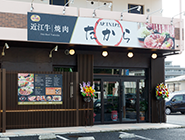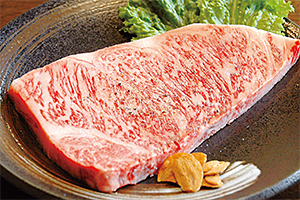 Omi Beef Chuck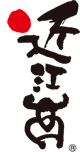 Carefully selected from only the finest Japanese Black Omi chuck. This is a top-quality A4 cut.
Sourced directly from our partner farms, and with a thoroughly matured taste, this dish is second to none. The exceptional flavor intensifies as the beef melts in the mouth.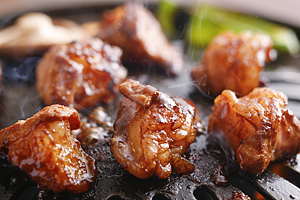 Omi Beef Offal
With a delicate deliciousness that spreads through the mouth, and a tender texture, this gem of a dish will astonish even the most discerning offal aficionado.
The high collagen content brings benefits to the skin. This dish is popular among women.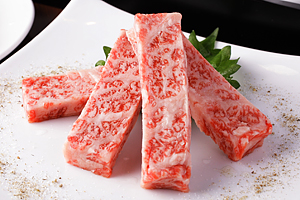 Thick-Cut Lengths of Sirloin
We have developed this original cut, which grills most deliciously, with a thickness of 15mm. You can savor the true experience of melt-in-the-mouth, first-rate Omi beef steak.
Please, take all the time you need to enjoy the special look, taste, and aroma of Omi beef.

Japanese Black Omi beef cattle are raised on Omi rice and produced in extremely small numbers. We purchase one head of cattle at auction from our partner farms in Ryuo, Shiga Prefecture.
We offer this top-grade meat, with reliable safety and quality, at a reasonable price.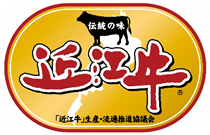 Omi Beef Production, Circulation Promotion Conference
[Seal of Certification]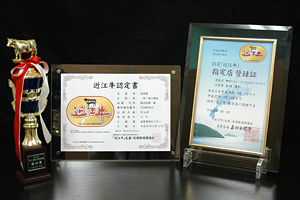 In the restaurant, we have table seating where parties of one or pairs can have a relaxed meal, and party seating where families, groups, and organizations can take their time and enjoy.
After eating and drinking to your heart's content, you can also stay at Business Hotel Takara, which is on the same property as the restaurant.
We also offer an economical [Party & Lodging Combo.]